Public Safety Power Shutoff Workshop to address concerns of vulnerable Populations hosted by CPUC
9:00am - 12:30pm
Santa Rosa Veterans Memorial Hall
1351 Maple Ave, Santa Rosa, CA 95404
---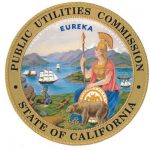 JOIN THE CPUC TO HELP THEM ADDRESS DE-ENGERGIZATION CONCERNS OF VULNERABLE POPULATIONS
Utilities have authority to shut off power in order to protect public safety under high fire risk conditions. Public Safety Power Shutoffs (PSPS) can save lives and property and prevent wildfires.
The California Public Utilities Commission (CPUC) has developed rules regarding the reasonableness, notification, mitigation, and reporting of PSPS, also known as de-energization. The CPUC is continuing to improve these rules with an emphasis on protecting vulnerable populations.
Please join us at this PSPS workshop to learn more and provide your input! At the PSPS workshop we will address:
• CPUC requirements for PSPS
• Utility practices and how they have been working to address concerns of vulnerable populations
• Current challenges with PSPS and impacts on vulnerable populations
The CPUC regulates privately owned electric, natural gas, telecommunications, water, railroad, rail transit, and passenger transportation companies.