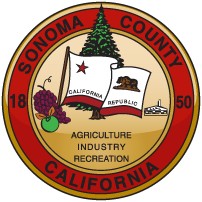 SANTA ROSA – The County of Sonoma is establishing a Resiliency Permit Center exclusively dedicated to assist survivors of the fires rebuild. The center, which will open on February 13, will accelerate the permitting process for home owners of the approximately 3,000 residential properties destroyed or damaged in unincorporated areas of Sonoma County. The Resiliency Permit Center will be located adjacent to the existing Permit Sonoma offices at 2550 Ventura Avenue in Santa Rosa. Applications will have an expedited processing time of five business days or less for plan checks, with three business days for rechecks.
"We want to be a partner to fire survivors, not a roadblock," said Sonoma County Board of Supervisors Chair James Gore. The Resiliency Permit Center will help people rebuild quickly and efficiently, cutting the red tape and getting people back on their feet as soon as possible."
Rebuild permits will have a reduced permit fee schedule reflecting reduced work due to the already developed nature of sites with driveways, wells, septic systems, and other infrastructure. The table below represents example structure sizes. Permit fees for each structure will be based on the individual size of each structure.
| Fee by Square ft. | 1,000 | 1,500 | 2,000 | 2,500 | 3,000 |
| --- | --- | --- | --- | --- | --- |
| Main dwelling or accessory to dwelling | $ 5,040 | $ 5,957 | $ 6,782 | $ 7,611 | $ 8,440 |
| Detached garage or storage structure | $ 2,727 | $ 3,310 | $ 3,850 | $ 4,613 | $ 4,782 |
Fire survivors are invited to continue submitting permit applications to Permit Sonoma before the Resiliency Permit Center opens. Fire survivors using Permit Sonoma services at the regular fee schedule will be refunded the difference.
The additional permit center will be staffed by experienced professionals equipped to offer comprehensive permitting and inspection services for fire survivors and their representatives. The center will utilize technological tools including digital scheduling of appointments, electronic plan checking, and online applications.
The Permit and Resource Management Department (Permit Sonoma) will continue to process all permits for projects unrelated to the wildfire damage. Existing projects and plans currently submitted for plan review and permit issuance should experience no impact in processing resulting from the fire-related permitting.
The County of Sonoma is committed to assisting our residents to rebuild as quickly and effectively as possible. To contact Sonoma County's Rebuild Hotline with rebuilding or permit questions, call (707) 565-1788.  For more information about rebuilding efforts, please visit http://sonomacounty.ca.gov/Rebuilding/.